History
The Beyond development, from its inception, quickly attracted a fantastic amount of support from local residents, local government, environmental groups and the press. Over the years of planning, a number of groups have been involved to assist in establishing the large vegetated and wetland areas. Trees for Life, Goolwa Wellington LAP, Green Corps, local primary and secondary schools and local environmental groups helped in planting thousands of native provident species up until 2005.
Overwhelming public support has been given to this project through the local government and state planning consultation process.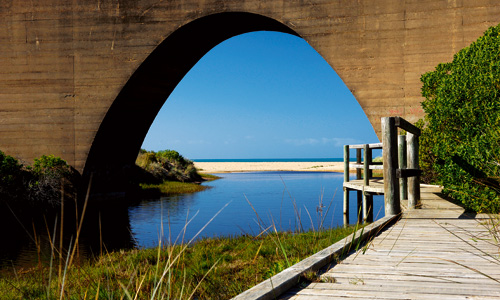 We would like to take this opportunity to thank those for their support and assistance in developing the area. We look forward to seeing you enjoy this area as it establishes itself as one of the most stunning wetlands in the State.
Team
The developer group is Environmentally Sustainable Developments (ESD), a family business. The ethos of the development and concepts within it are derived from strong beliefs shared by the members of the Wright Family. Steve Wright's vision has been brought to being by the energetic involvement of family members and selected specialists within planning, design, and specific environmental fields. Below is a brief introduction to the people and businesses that make up Beyond Today.
| | | |
| --- | --- | --- |
| Developers | Steven Wright | ESD |
| | Margit Wright | ESD |
| Project Manager | Bruce Wright | ESD |
| Planner | Simon Tonkin | Masterplan |
| Design Team | Steven Wright | ESD |
| | Margit Wright | ESD |
| | Adam Wright | ESD |
| | Nadia Matijevic | ESD |
| | John Maitland | Energy Architecture |
| | Simon Tonkin | Masterplan |
| Civil Engineering | Chew Dieu - | Aurecon |
| Land Surveying | Bob Andrew | Andrews & Associates |
| Landscaping | Margit Wright | Adelaide Garden Design |
| | Nadia Matijevic | Adelaide Garden Design |
| Wetland Development | Barry Ormsby | Barry Ormsby Landscape Architect |
| Conveyancing | Hans Leidig | Hans Leidig Conveyancers |
| Project Accountant | Bruce Wright | ESD |
| Legal-Planning | James Hilditch | Griffin Hildich |
| Legal | Bill Taylor | Hume Taylor |
| Sales | Adam Wright | ESD |
| Marketing & Advertising | Simon O'Brien | Blacksheep |
| Public Relations | Rebecca O'Rourke | O'Rourke PR |